GAF Lockdown Reading Group discusses: Braiding Sweetgrass
30 July, 2020 @ 8:00 pm

-

9:30 pm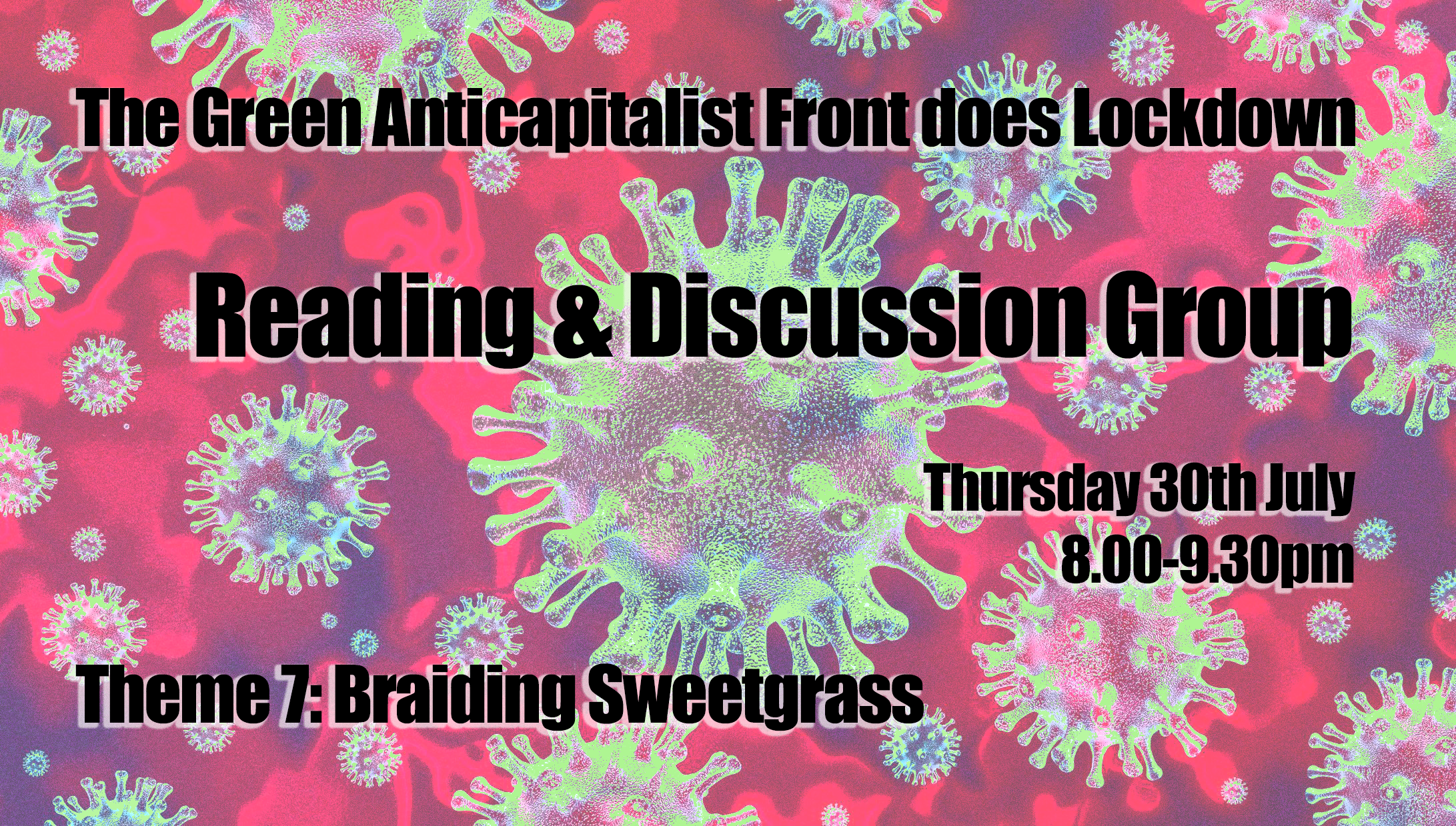 Our aim with these meetings is to discuss different subjects each time so it is not necessary to have joined a previous session to participate. Before each meeting we will share a variety of readings of different lengths and types to give some background information on the subject to be discussed. Participants are invited to pick and choose what they would like to read in preparation. No prior knowledge of any of the subjects is necessary as our aim is to make these events as inclusive and broad as possible.
For thousands of years communities lived in reciprocity with nature, caring for the land as it cared for them, until imperialist forces sought to take that land for themselves. Now that capitalism, a uniquely extractive mode of economic organisation, has come to dominate the world, what can we learn from the wisdom of indigenous peoples in our shared struggle against environmental collapse?
For this session we will be doing things a little differently as we will be concentrating on one book:  Braiding Sweetgrass: Indigenous Wisdom, Scientific Knowledge and the Teachings of Plants by Robin Wall Kimmerer.
Join us as we discuss the questions:
What might a post-capitalist gift economy look like? (see 'Gifts' theme below)
How can we apply indigenous wisdom to our own projects and to new environments? (see 'Wisdom' theme below)
How can we live in reciprocity with nature in our individual lives and in our collective efforts? (see 'Reciprocity and Gratitude' theme below)
How do language and grammar shape the way we think about the world? (see 'Language' theme below)
We would like to remind you that you don't need to do all the readings, just pick and choose the ones you want to do. We would highly recommend doing as much of the reading as you are up to in preparation.
Readings
Main book:
The chapters of the first half of the book have been grouped by theme to make it easier for the reader to explore the topics of most interest to them. The chapters are relatively short (except The Honourable Harvest, which is substantially longer) and standalone.
Gifts

The Gift of Strawberries
Maple Sugar Moon
Epiphany in the Beans

Wisdom

The Council of Pecans
Asters and Goldenrod
The Three Sisters
Mishkos Kenomagwen: The Teachings of Grass

Reciprocity and Gratitude

An Offering
Allegiance to Gratitude
Wisgaak Gokpenagen: A Black Ash Basket
The Honourable Harvest (this chapter is a lot longer than the others but covers many topics)

Motherhood

Witch Hazel
A Mother's Work
The Consolation of Water Lilies

Language

Learning the Grammar of Animacy
Audio Lectures:
(We have changed digital conference platform and are no longer using zoom, clicking on the link above will take you to our new platform that is powered by Big Blue Button. Please make sure you select the mic button when joining so you are able to speak.)
Event times are set at BST (British Summer Time), the time zone being UTC+1.