GAF does Bookfair 2020: Green Solidarity – Learning from the GRASS experience
18 October, 2020 @ 8:00 pm

-

9:30 pm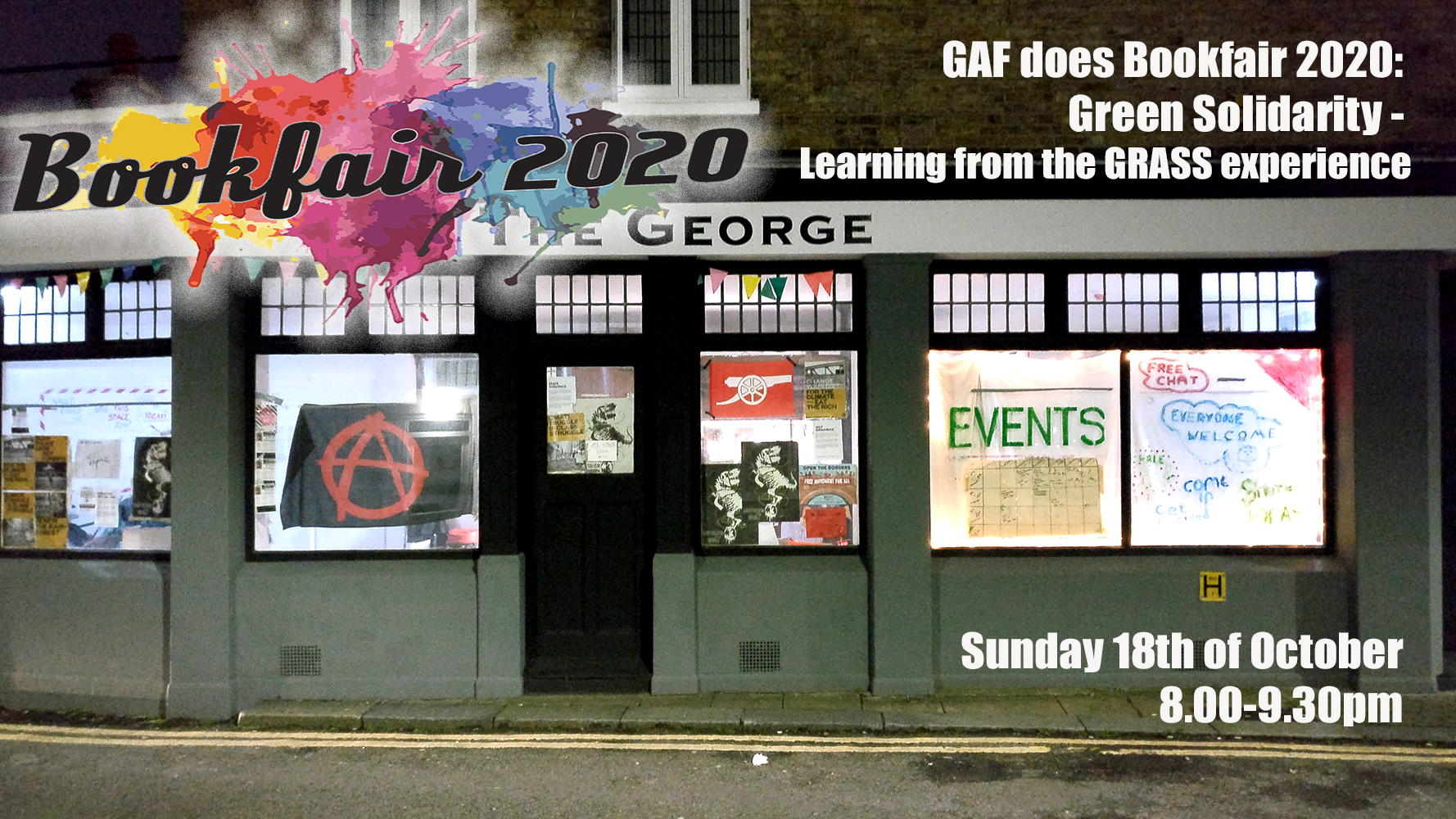 The Anarchist Bookfair is back! Unfortunately due to Covid it is going to be an online event. We will be hosting a virtual stall, but also a workshop.
Workshop: Green Solidarity – Learning from the GRASS experience
At the end of February 2020 individuals organising under the GAF banner squatted the The George pub near Holloway Road. Initially it was used to host talks, workshops and all kinds of events as part of the GAF Week of Action that was taking place at the time. Afterwards, it was kept open as a social centre with regular events. Under normal circumstances, the building would have most likely been evicted only a few weeks after. But instead the pandemic happened, evictions were postponed and the people living there found themselves in a privileged position to respond to it by organising with the local mutual aid networks that were appearing all over the country.  By doing this, they were able to put their ideals to test and get a glimpse of what autonomous community spaces can offer to the British left.
We will look at the inspirations for the GRASS projects, the circumstances that made it possible, the lessons learns from its achievements and mistakes and then give the space for everyone to discuss how these can be applied to new projects in the future.
Link to video-conference to participate in discussion and ask questions:
Discussion internet link:

Internet link to just listen to audio:
Notice: We record our livestreams so they can be shared on our website for everyone who missed them. Please beware of this when following in video-conference link.
Event times are set at BST (British Summer Time), the time zone being UTC+1.
Accessibility
Twitch offers automated closed captions, although the quality of the transcription can be quite low at times. We also publish a recording of each livestream on the GAF Youtube channel after the event, and Youtube closed captions tend to be more reliable. It may take us a few days to upload the recording to Youtube, but if you're keen to see it sooner, do get in touch, and we may be able to prioritise this.