GAF Lockdown Reading Group discusses: Disaster Capitalism
23 April, 2020 @ 8:00 pm

-

9:30 pm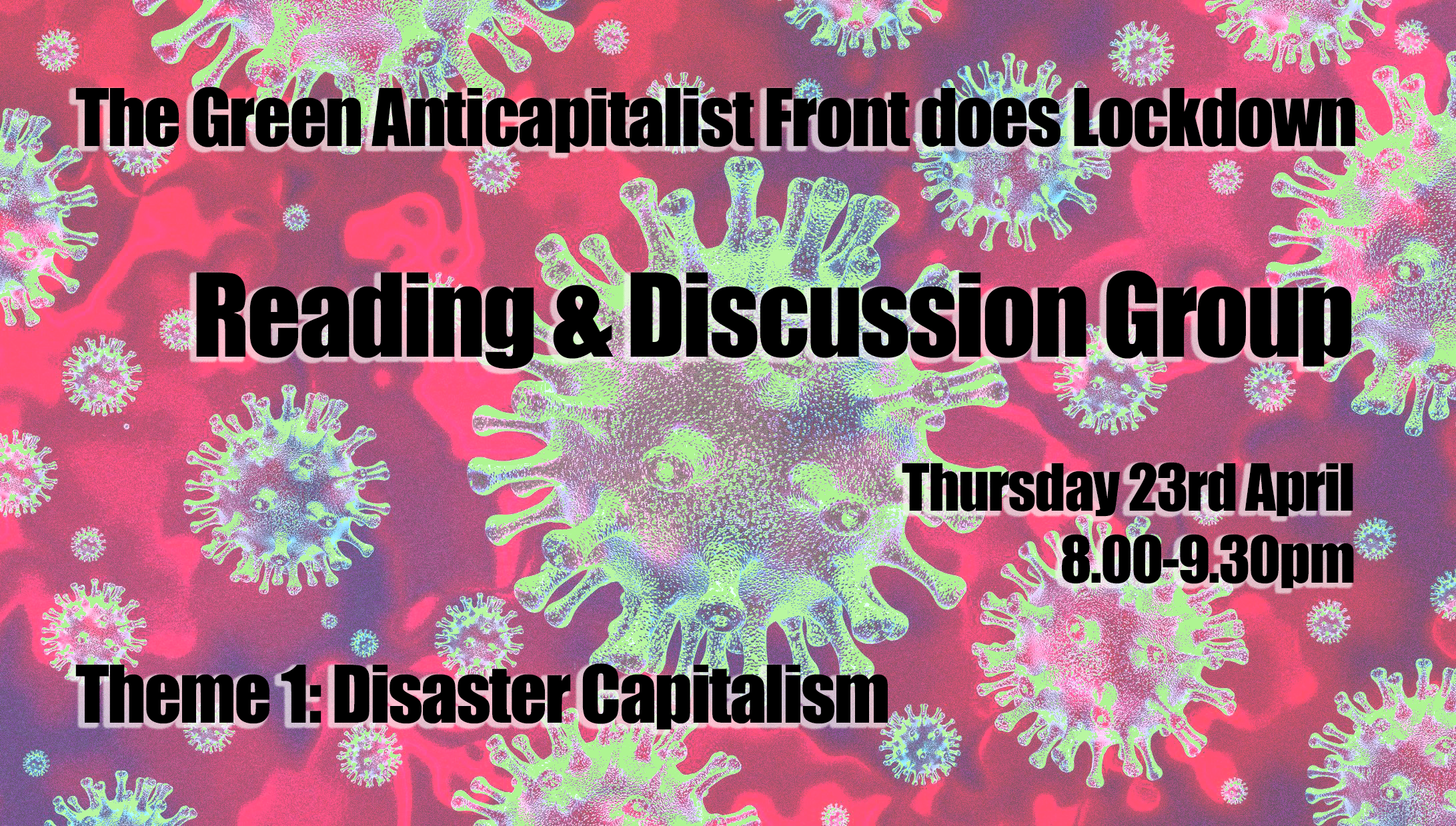 Please join for our first online reading and discussion group meeting. Our aim is to discuss different subjects each time so it is not necessary to have joined a previous session to participate. Before each meeting we will share a variety of readings of different lengths to give some background information on the subject to be discussed. Participants are invited to pick and choose what they would like to read in preparation. No prior knowledge of any of the subjects is necessary as our aim is to make these events as inclusive and broad as possible.
Following off of our first lifestream, our first reading group discussion will also deal with the topic of disaster capitalism.
Join us as we discuss the questions:
Why is disaster capitalism so beneficial for the accumulation of capital? What other examples of 'shocks' and responses do you know of?
What are the possible benefits of state-led programmes like UBI, GND, new Marshall Plan for capitalism today?
How does the current Covid-19 situation highlight the flaws of our economic system? What are possible state responses you are worried about?
What are the possible impacts of these different options on environmental and ecological systems?
Can you see any spaces opening up for revolutionary action or progress on these various paths? What role could we play?
Readings:
Join Zoom Meeting:
online:

https://us02web.zoom.us/j/87402101151
Meeting ID: 874 0210 1151

by phone:

UK numbers: +44 203 481 5240 or +44 131 460 1196
Meeting ID: 874 0210 1151
If not in the UK find your local number: https://us02web.zoom.us/u/kim6i0kYe
Event times are set at BST (British Summer Time), the time zone being UTC+1.