GAF Lockdown Reading Group discusses: ecofascism
16 July, 2020 @ 8:00 pm

-

9:30 pm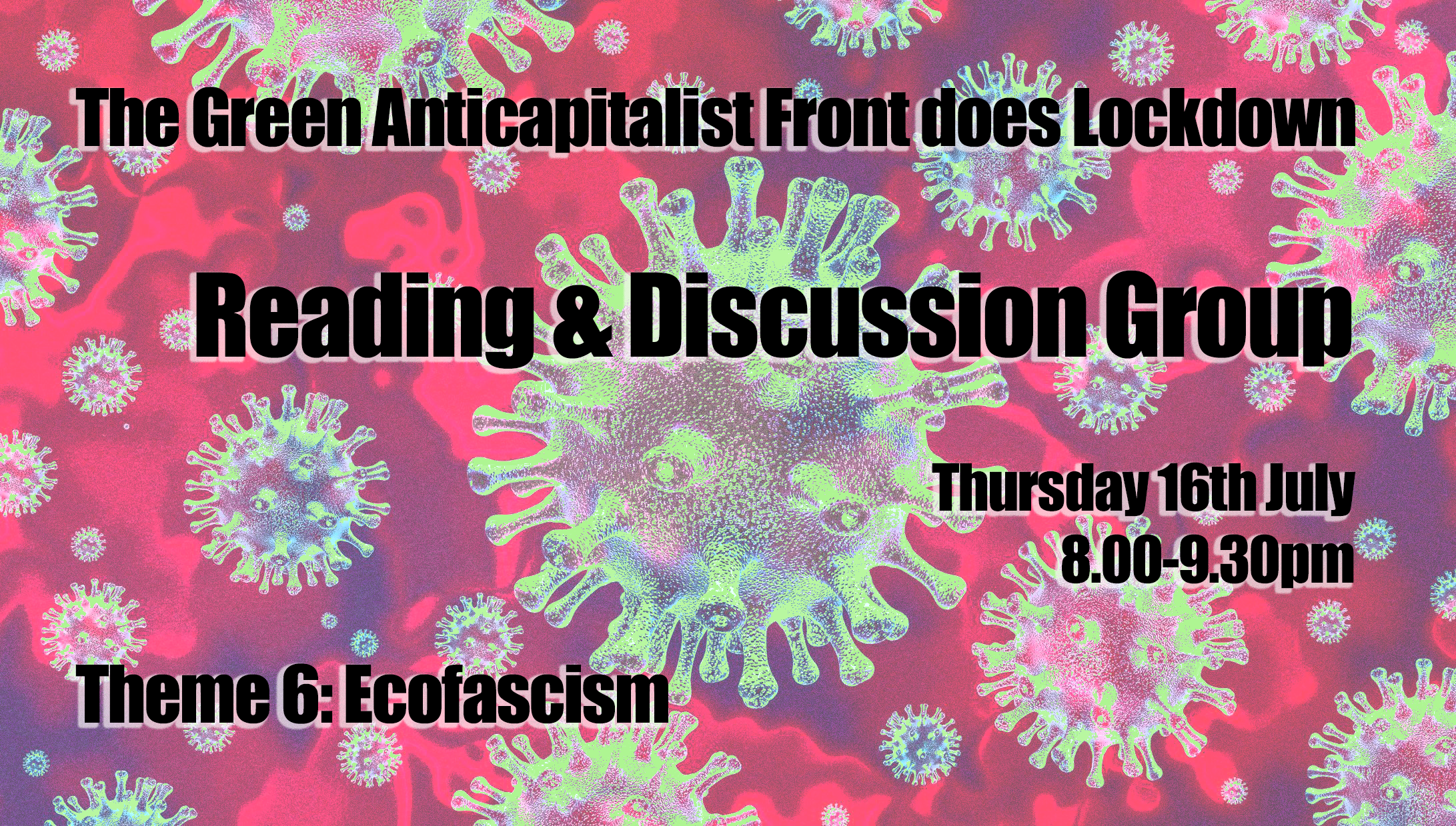 Our aim with these meetings is to discuss different subjects each time so it is not necessary to have joined a previous session to participate. Before each meeting we will share a variety of readings of different lengths and types to give some background information on the subject to be discussed. Participants are invited to pick and choose what they would like to read in preparation. No prior knowledge of any of the subjects is necessary as our aim is to make these events as inclusive and broad as possible.
In this reading group session we will be discussing ecofascism. Fascism is on the rise all around the world. At the same time, the climate crisis is an imminent danger to the continued survival of our ecosystems. This has brought back an old enemy that combines these two threats: ecofascism.
Join us as we discuss the questions:
What is Eco-fascism? How greatly does it differ from other forms of Fascism?
What experiences have we had with Eco-fascism? How big of a problem is it in our movements?
What are the threats posed by Eco-fascism? Is it likely to become more of a threat in the future?
What can we do to combat Eco-fascism, both inside and outside of our movements?
Are there positive alternatives to Eco-fascism? How can we spread these alternatives
We would like to remind you that you don't need to do all the readings (especially since the list is so large this time), just pick and choose the ones you want to do. We would highly recommend doing as much of the reading as you are up to in preparation. We would also recommend picking from both the basic readings and the advanced readings sections.
Readings:
Basic reading list
Further reading list
TEXT – 'Ecofascism' by Janet Biehl and Peter Staudenmaier. (Text)

A collection of two essays discussing eco-fascism and its presence and development in Nazi ideology.

VIDEO – 'Ecofascism: How Benign Ideas Can Go Wrong' by Political Philosophy. Invidious

A discussion of an essay by Peter Staudenmaier about Eco-fascism (29 minutes).

VIDEO – 'Overpopulation, Eugenics + Capitalism' by Peter Coffin. Invidious

A video explaining why Overpopulation should not be a major concern, and how positing it as a major concern is an act that is historically interconnected with eugenics and racism (51 minutes).

TEXT – 'The Population Myth' by Murray Bookchin. (Text)

An essay by Murray Bookchin explaining the problems and flaws of the idea of a 'population problem'.

VIDEO – 'Thanos Was Wrong – Eugenics and Overpopulation' by Renegade Cut. Invidious

A video exploring the problems of eugenics and the overpopulation narrative by analysing the 'Avengers' movies (22 minutes).

TEXT – 'Rojava: Frontline of Capital's War on the Environment' by Matt Broomfield

An introduction of Social Ecology as a positive alternative to Eco-Fascism, and an explanation of how it has successfully been applied in Rojava.
(We have changed digital conference platform and are no longer using zoom, clicking on the link above will take you to our new platform that is powered by Big Blue Button. Please make sure you select the mic button when joining so you are able to speak.)
Event times are set at BST (British Summer Time), the time zone being UTC+1.