GAF Lockdown Reading Group discusses: Social Ecology
7 May, 2020 @ 8:00 pm

-

9:30 pm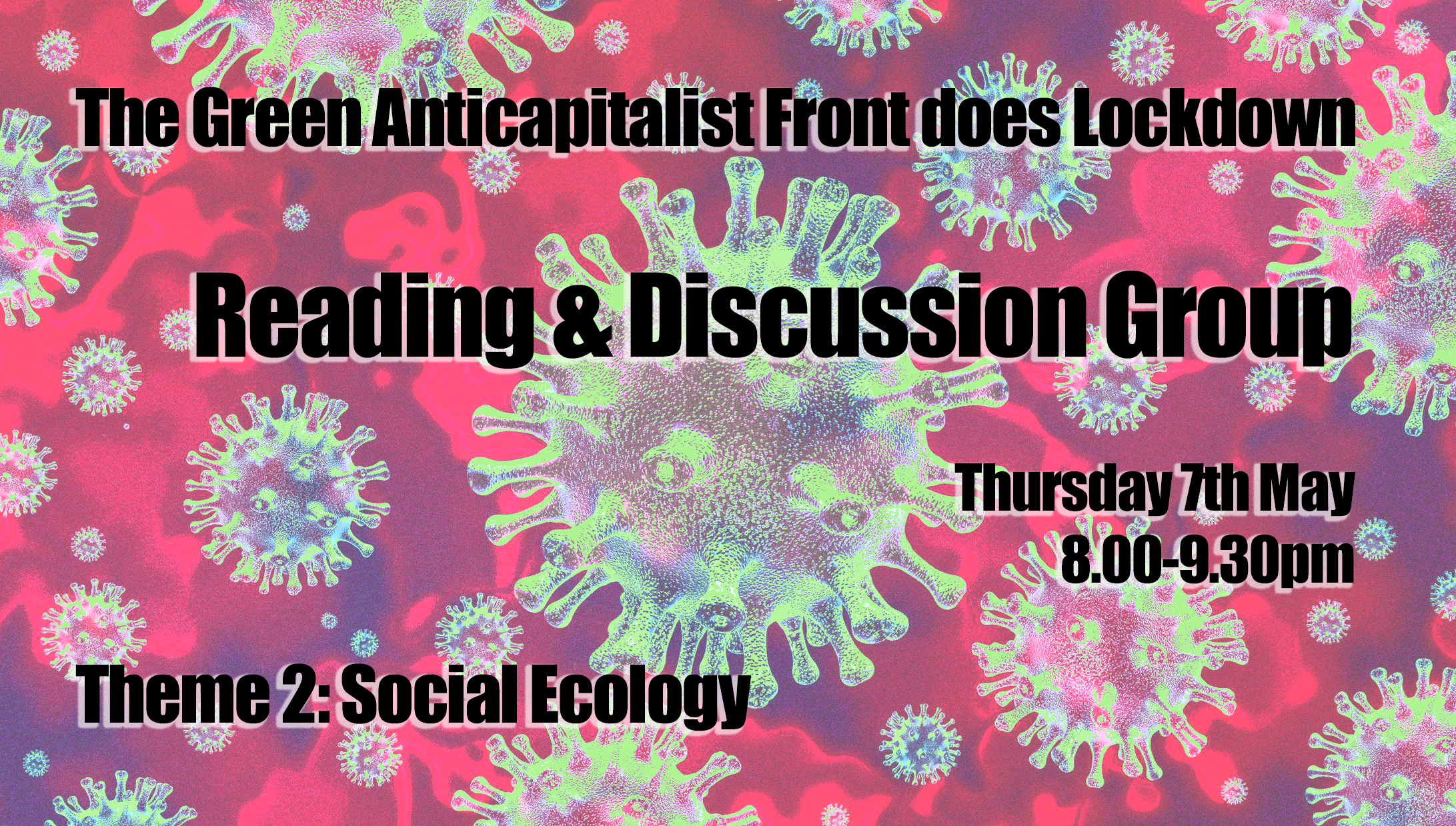 After our first successful online reading and discussion group meeting, we are happy to invite you to our second one. Our aim with these meetings is to discuss different subjects each time so it is not necessary to have joined a previous session to participate. Before each meeting we will share a variety of readings of different lengths to give some background information on the subject to be discussed. Participants are invited to pick and choose what they would like to read in preparation. No prior knowledge of any of the subjects is necessary as our aim is to make these events as inclusive and broad as possible.
Following off of our second livestream, our second reading group discussion will also deal with the topic of social ecology. Social ecology is the recognition of the often overlooked fact that all our ecological problems arise from our deep-seated social problems.
Join us as we discuss the questions:
How does a Democratic Confederation differ from a State? How could a similar political system be realistically implemented in our current climate?
What are the current institutional blockers to the instatement of a direct democracy model? What structures would need to be abolished? What new structures would be needed?
How can we cultivate the necessary political education and experience in western societies needed for the functioning of direct democracy models? For example how do we get people to participate meaningfully in neighbourhood assemblies?
How is hierarchy and domination reflected in the structure of contemporary cities and states? How can we dismantle these structures and decentralise already existing cities and regions?
How can community and ecology relate to each other? How can we decolonise and decommodify our relationship to nature? How can we erase the boundary between civilisation and 'wilderness'?
Readings:
Basic readings
Further readings
Join Zoom Meeting:
online:

Meeting ID: 822 1605 1667

by phone:
Event times are set at BST (British Summer Time), the time zone being UTC+1.