The Green Anticapitalist Front does Lockdown – Livestream: Dual power – Infrastructure for insurrection
14 May, 2020 @ 8:00 pm

-

9:30 pm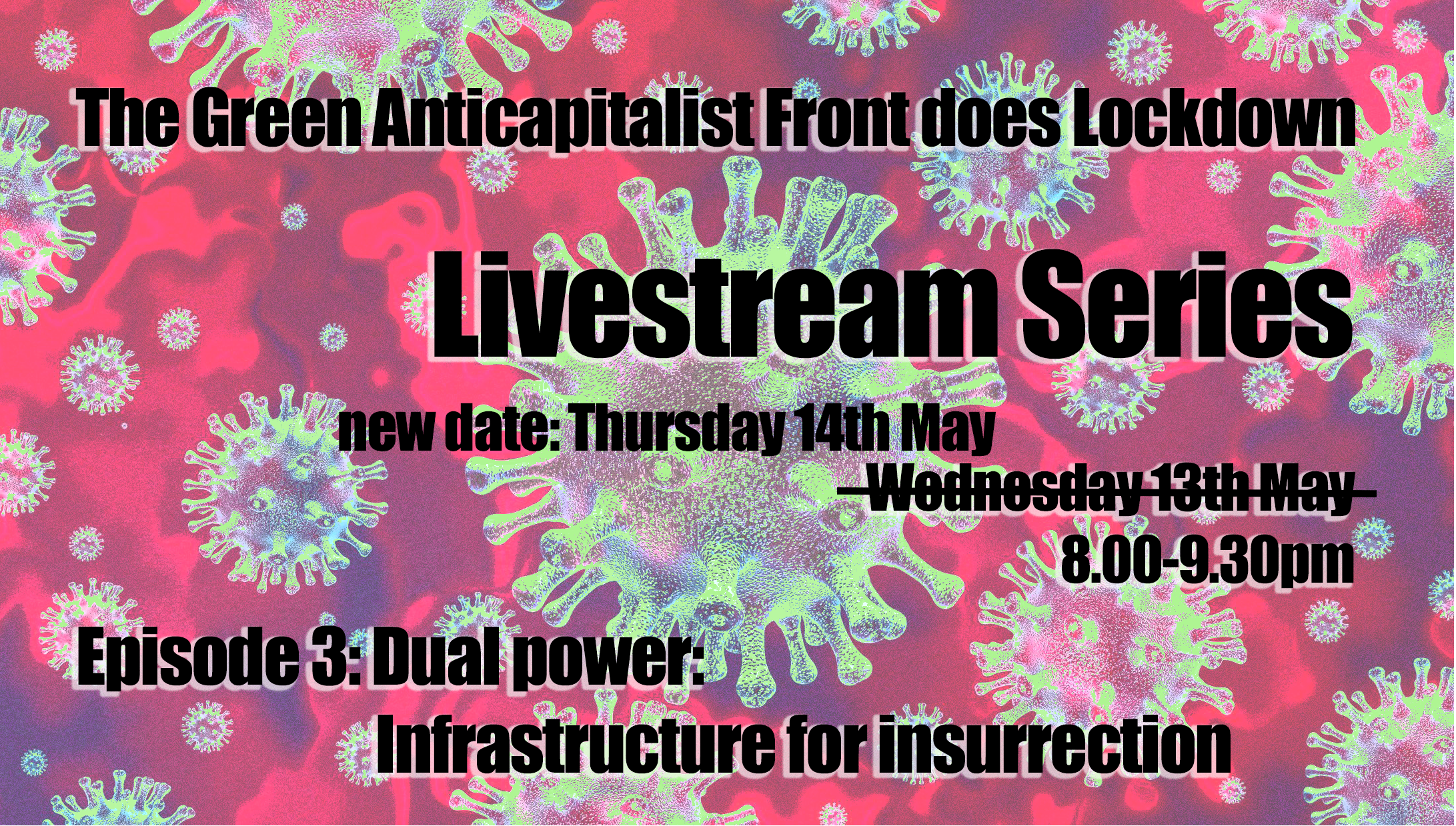 ***NOTICE: Due to unforeseen circumstances this livestream has had to be postponed till Thursday the 14th of May, at the same time***
GAF is reacting to the Covid-19 lockdown and enforced social distancing, by moving online. We will be doing a series of lifestreams about a variety of subjects that we hope will provide food for constructive discussion.
Episode 3: Dual power: Infrastructure for insurrection
For this episode we get together for a podcast/livestream discussion with a friend of GAF to talk about Dual Power, a crucial area of revolutionary politics. The discussion will include the impact of new theories of mutual aid on radical ecological politics, and the implications of the rise of a new wave of radical organisers in the USA and UK. Topics covered will include: modern writing on the subject of dual power, the history of how the 20th century guerilla warfare phenomenon has influenced anti-state strategies, as well the influence of the Black Panthers, Murray Bookchin, modern mutual aid movements like Occupy Sandy and the new and wide ranging theoretical debates that started in American communist and anarchist circles over the last several years.
In this presentation we will look at what Dual Power is and isn't, it's history and origins in revolutionary political theory, and how it is being adapted by a new wave of leftists to meet the most imposing challenges, with particular note for looking at how it could be deployed in the UK, where it has up till now been ignored as a theory and strategic concept.
For the second half of the livestream there will be a Q&A session.
Link to video-conference to participate in discussion and ask questions:
Discussion internet link:

Meeting ID: 886 2760 1189

Discussion telephone link:
Internet link to just listen to audio:
Notice: These lifestreams will be recorded so they can be shared on our website for everyone who missed them. Please beware of this when following in video-conference link.
Event times are set at BST (British Summer Time), the time zone being UTC+1.