GAF Lockdown Reading Group discusses: Dual power
21 May, 2020 @ 8:00 pm

-

9:30 pm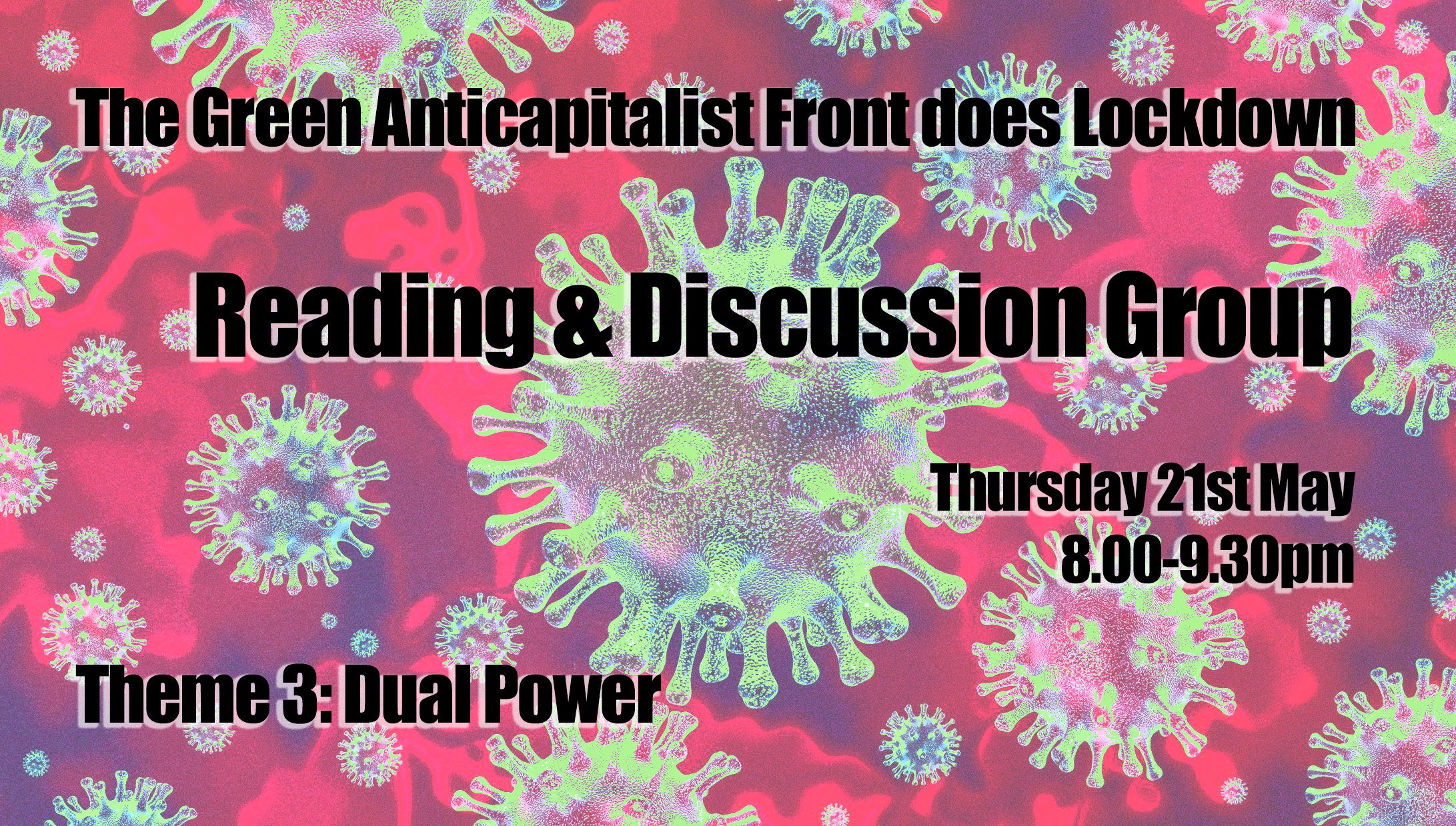 Our aim with these meetings is to discuss different subjects each time so it is not necessary to have joined a previous session to participate. Before each meeting we will share a variety of readings of different lengths to give some background information on the subject to be discussed. Participants are invited to pick and choose what they would like to read in preparation. No prior knowledge of any of the subjects is necessary as our aim is to make these events as inclusive and broad as possible.
Following off of our third livestream, this reading group discussion will also deal with the topic of dual power. Dual power theorises a distinct and oppositional relationship between the forces of the state/capitalism and the revolutionary forces of oppressed people, but there is more to it than that. Lets discuss it together.
Join us as we discuss the questions:
How has the conception of dual power changed since the Bolshevik inception in 1917?
What functions could dual power structures fulfil in late-stage capitalist society? What systemic obstacles may impede dual power structures from fulfilling these functions?
How do mutual aid networks have the potential to build into dual power structures and transform our relationship with the state?
In what ways can dual power be integrated into digital spaces to facilitate real world organising?
How can we ensure dual power structures do not reflect and replicate our existing hierarchical structures that we are already used to?
We would like to remind you that you don't need to do all the readings, just pick and choose the ones you want to do. We would recommend that you do at least some of the readings in preparation. We would also recommend picking from both the basic readings and the advanced readings sections.
We would also like to apologise for the text heavy reading for this session, we were unable to find suitable alternatives in audio or video format.
Readings:
Basic readings
Further readings
Join Zoom Meeting:
online:

Meeting ID: 824 8292 5201

by phone:
Event times are set at BST (British Summer Time), the time zone being UTC+1.