GAF Lockdown Reading Group discusses: The Commons, the building blocks for a society beyond capitalism?
10 September, 2020 @ 8:00 pm

-

9:30 pm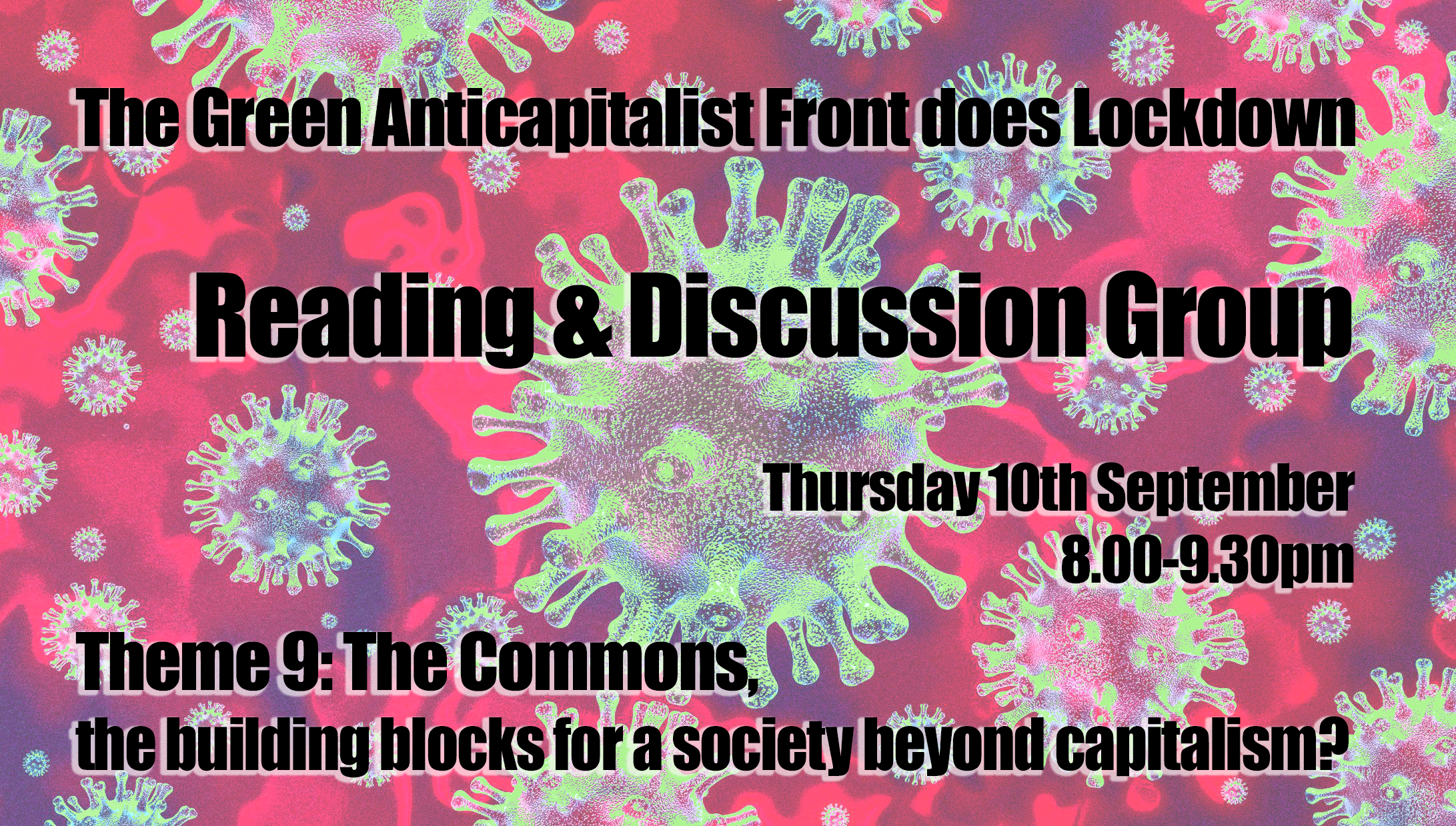 Our aim with these meetings is to discuss different subjects each time so it is not necessary to have joined a previous session to participate. Before each meeting we will share a variety of readings of different lengths to give some background information on the subject to be discussed. Participants are invited to pick and choose what they would like to read in preparation. No prior knowledge of any of the subjects is necessary as our aim is to make these events as inclusive and broad as possible.
In this reading group we will be discussing the commons, how we have experienced them and what opportunities they offer to build a new society. The commons is a very broad term, that has become even broader with the inclusion of the digital commons and all the other facets of the "new" commons. According to Italian commons activist Giovanna Ricoveri "The commons are goods or means of subsistence which are not commodities, and therefore they constitute a social arrangement that is the complete opposite of the one created by the market economy" and according to Charlotte Hess "the vision more broadly involves people working together, cooperatively, to build methods of production, service provision, and exchange which create value and well-being while integrating ecological care, justice, and long-term planning to the best of diverse communities' abilities." Join us as we find out more about them.
Questions
Can you give an example of commons that you have experienced or been part of? What did it offer you? How did it affect your quality of life and sense of community?
What makes a well-managed commons, thus avoiding the "tragedy of the commons"? What skills are needed and what kind of community relationships?
How are the commons linked to reproductive labour and subsistence living? Do you think they can be a means of creating a new collective paradigm of living and subverting capitalism?
What opportunities do you see in your community or neighbourhood to reclaim commons or set up new commons? How would you go about doing it?
We would like to remind you that you don't need to do all the readings, just pick and choose the ones you want to do. We would highly recommend doing as much of the reading as you are up to in preparation.
Reading
Basic Reading
Advanced Reading
Further Reading
(We have changed digital conference platform and are no longer using zoom, clicking on the link above will take you to our new platform that is powered by Big Blue Button. Please make sure you select the mic button when joining so you are able to speak.)
Event times are set at BST (British Summer Time), the time zone being UTC+1.