The Green Anticapitalist Front does Lockdown – Livestream: The Mapuche Struggle for Indigenous Autonomy
3 September, 2020 @ 8:00 pm

-

9:30 pm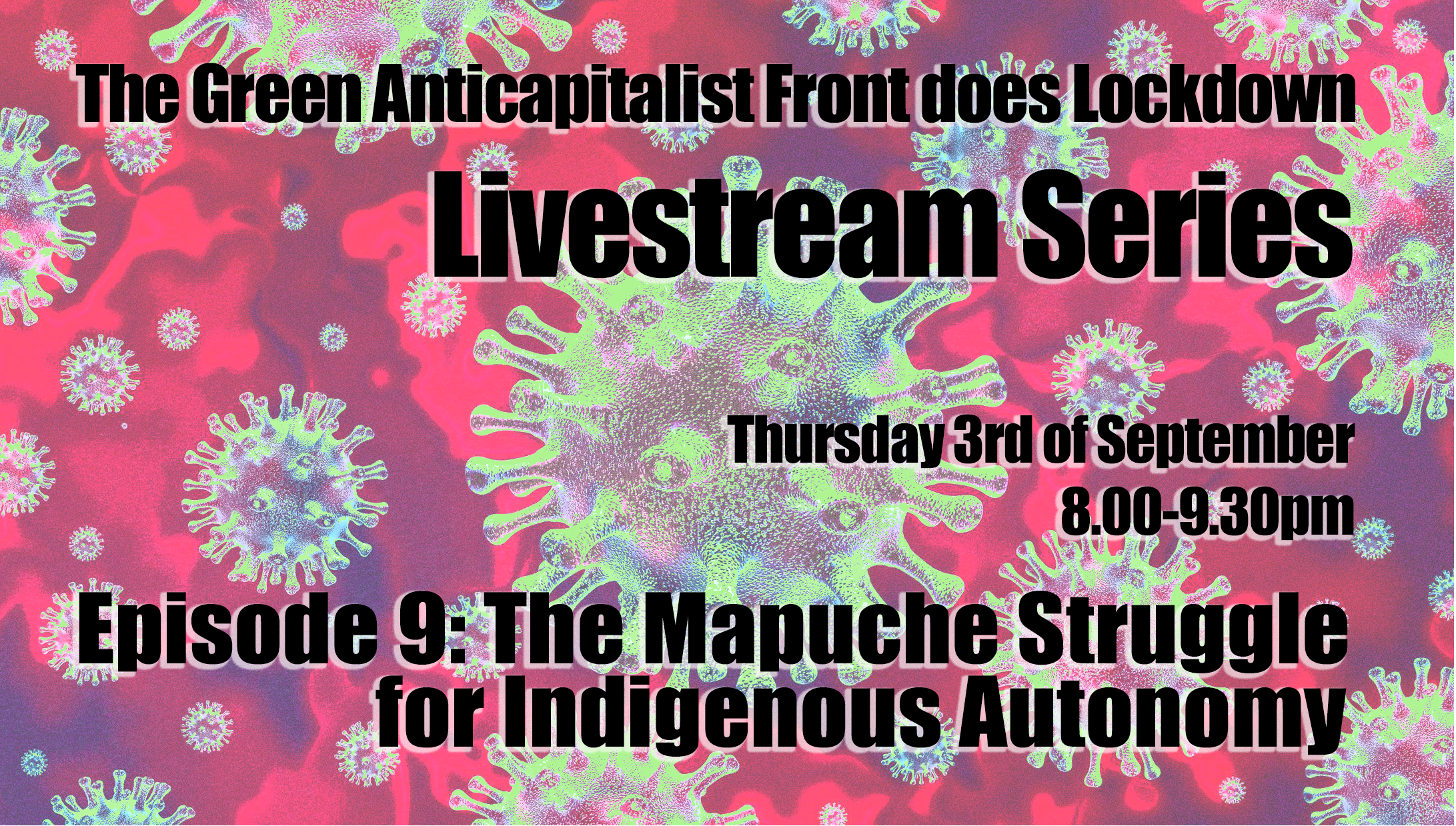 GAF is reacting to the Covid-19 lockdown and enforced social distancing, by moving online. We will be doing a series of lifestreams about a variety of subjects that we hope will provide food for constructive discussion.
Episode 9: The Mapuche Struggle for Indigenous Autonomy
GAF will be interviewing Carole Concha Bell about the continuing struggle of the Mapuche people in Chile to defend their land. We will learn about the history of their fight and how it is connected to the environmental struggle of preventing the Chilean state and corporations from exploiting the natural resources found on Mapuche land. We will also hear the latest about how the Mapuche are resisting repression, including the ongoing hunger strike, and what people around the world can do to support the Mapuche struggle.
Carole Concha Bell is a Cambridge-based journalist, founding member of the Chile Solidarity Network and press coordinator for Mapuche International Link.
Link to video-conference to participate in discussion and ask questions:
Discussion internet link:

(We have changed digital conference platform and are no longer using Zoom, clicking on the link above will take you to our new platform. Please make sure you click the mic button to mute yourself when joining the conference.)

Internet link to just listen to audio:
Notice: These lifestreams will be recorded so they can be shared on our website for everyone who missed them. Please beware of this when following in video-conference link.
Event times are set at BST (British Summer Time), the time zone being UTC+1.
Accessibility
Twitch offers automated closed captions, although the quality of the transcription can be quite low at times. We also publish a recording of each livestream on the GAF Youtube channel after the event, and Youtube closed captions tend to be more reliable. It may take us a few days to upload the recording to Youtube, but if you're keen to see it sooner, do get in touch, and we may be able to prioritise this.