Global Britain's real climate changers: Big Oil and Big Mining must be taken down with the London Mining Network
1 March, 2020 @ 2:30 pm

-

4:00 pm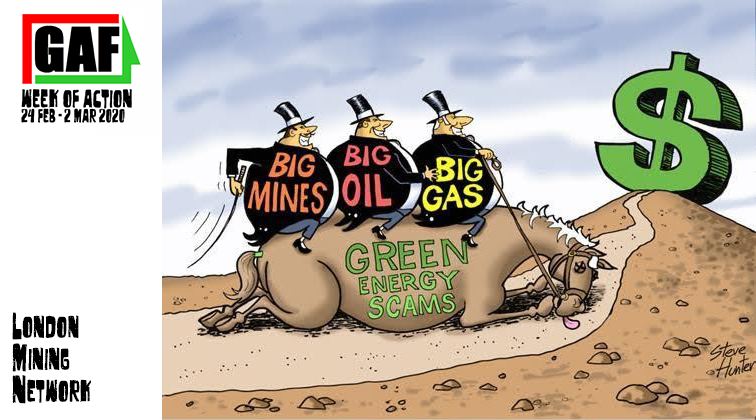 Greta Thunberg was right to insist at Davos that the problem actor to be confronted is the fossil fuel industry.
Rather than just the 1% usually cited, the UK is actually responsible for around 7-8% of global warming emissions. The principal culprits are the big oil and mining companies that operate across the entire planet, returning profits here.
The Labour Party says little more than outgoing Bank of England governor Mark Carney, to get corporations to report on their GHG emissions. Carney is speaking for the interest of asset managers in capital markets, his main concern is to reduce the financial risks due to climate change.
The protests at the British Museum were not only wonderfully imaginative, they had the right message, 'BP Must Fall'! That should be the core of our strategy to stop climate collapse, especially in this country that is spewing out the most enormous hypocrisy that will reach crescendo levels by the Glasgow COP, the lie that somehow we are world leaders when in reality UK business leaches off the global South. Our challenge is to demonstrate that the UK fossil fuel empire truly has no clothes.
Read:
Global Britain's real climate changers: Big Oil must be taken down
Location: GRASS, 9 Eden Grove (The George Pub), N7 8EE next to Holloway tube station. Contact number 07938830066.
Accessibility: The space is located on the ground floor with two steps, but we have a wheelchair ramp that we can put out when needed. The space has two toilets, but neither of them are accessible. The Yoga Centre across the road (Mahadevi Yoga Centre) is letting us use their wheelchair accessible toilets while they are open.
We have sourced as many chairs as we were able, but for events with a high turn out some people may have to sit on the floor or stand. We will do our best to ensure chairs are given by priority to those that need them the most.
The space is not a dry space, but we request people refrain from using it when drunk or high.