Protest first aid with Queercare
1 March, 2020 @ 4:00 pm

-

7:00 pm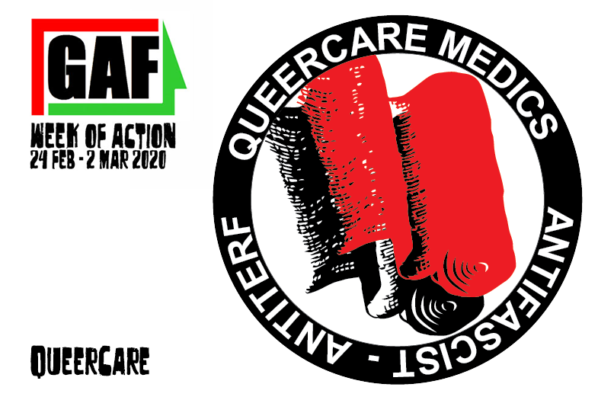 From heatstroke, to panic attacks, to baton injuries, join QueerCare first aiders for a practical skillshare on how we can look out for each other's physical and mental health during protests.
(Please note that this is not a certified first aid course.)
QueerCare is a transfeminist autonomous care organisation, providing training, support and advocacy for trans and queer people in the UK (and further afield). We focus on building communities which can care for themselves, and providing them with the resources to do so.
Location: GRASS, 9 Eden Grove (The George Pub), N7 8EE next to Holloway tube station. Contact number 07938830066.
Accessibility: The space is located on the ground floor with two steps, but we have a wheelchair ramp that we can put out when needed. The space has two toilets, but neither of them are accessible. The Yoga Centre across the road (Mahadevi Yoga Centre) is letting us use their wheelchair accessible toilets while they are open.
We have sourced as many chairs as we were able, but for events with a high turn out some people may have to sit on the floor or stand. We will do our best to ensure chairs are given by priority to those that need them the most.
The space is not a dry space, but we request people refrain from using it when drunk or high.