Mayday Bingo
1 May, 2021

-

15 May, 2021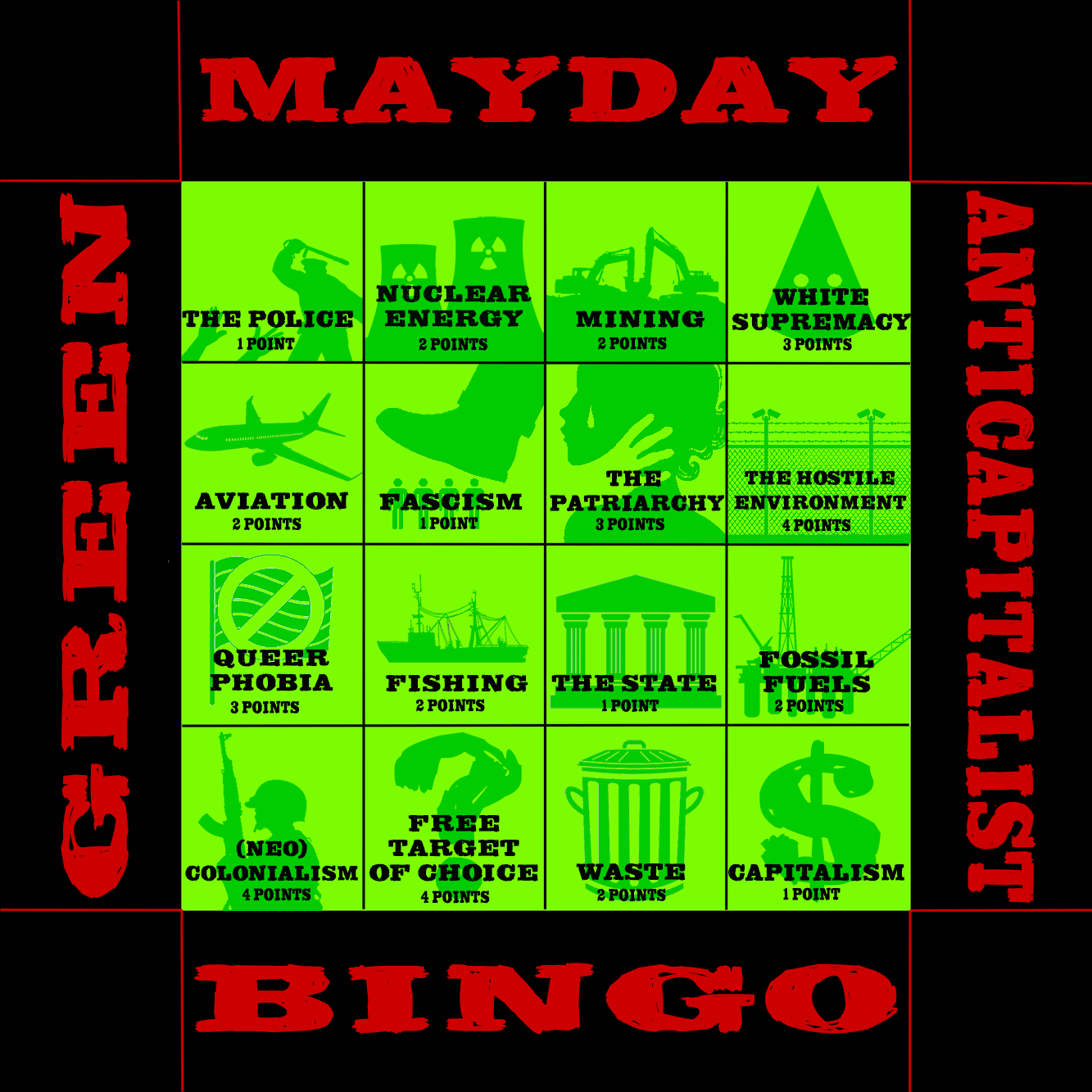 [Note: We listened to the objections and worries in relation to our original Mayday Bingo callout and in response we have amended it, got rid of the competition element and added clarifications and advice. Please let us know if you have ant further misgivings or comments, as we are all in the process of learning from each other and working to improve.]
This Mayday, to get us all back into the habit of going out into the great outdoors and doing cool shit again, – but also to remind us all how we can achieve more if we all work together – we are issuing an open challenge to participate in our Mayday Bingo. What better way is there to anticipate the easing of lockdown than by participating in a bit of friendly competitive activism while having fun?
The main aim of the game is for us all to win collectively. We do that by everyone contributing towards crossing out the targets on the bingo card.
In order to give everyone a nice big heads up and plenty of time to plot and carry out your actions, the game will run from the 1st to the 15th of May. To mark the end of the game, we'll post a sexy meme on 15th May as a thank you to all participants.
Participating
If you'd like to play, you could use our bingo card to run a game in your city or just with your affinity group or a couple of friends! Feel free to cross out boxes on the card, share it amongst comrades, or post it online if that's safe.
 While we are not encouraging anyone to choose the illegal actions from the list, this is a good resource to inspire you.
https://greenanticapitalist.org/how-to-fluffy-anarchist-basics/
https://greenanticapitalist.org/how-to-fluffy-anarchist-basics-2/
Your actions can be completely legal
Remember, not all actions are illegal!
Organising a freeshop is an action against waste.
Handing out anti-fascist literature is an action against fascism.
Offering childcare so comrades with kids can go to a demo or organising meeting is a great action against any of our targets.
Persuading your neighbours to switch to a more ethical energy supplier could be an action against nuclear energy.
Publishing an article in your student newspaper can be an action.
Sharing your actions or crossed out bingo boards
If you're keen to share a particularly fun action with the world but don't want to put it on your own account, we'd be happy to share it on ours! You can email us at greenanticapitalistfront@riseup.net.
Below is some advice for safely sending us your report or photo. Remember to never send us (or anyone) evidence of a crime unless you're confident it can't get you in trouble! And let us know if/how you'd like to be credited!
How to report actions without incriminating yourself 101
If you want to share any of your actions with us, especially if it's anything illegal, here's some advice to make that safer:
If you're going to take photos, wait until you're confident you've gotten away with it.
Preferably, don't be in the photo. If you must be, make sure you're heavily disguised.
Don't report until you're safe and far away from the site of the action.
Remove metadata from photos and blur out any faces, identifiable clothes, tattoos, etc.
Use a secure email, a VPN, and TOR browser.
Use a pseudonym.
Stay safe, have fun