The Green Anticapitalist Front does Lockdown – Livestream: Interview with Gran Canaria's Anarchist Federation
24 February, 2021 @ 8:00 pm

-

9:30 pm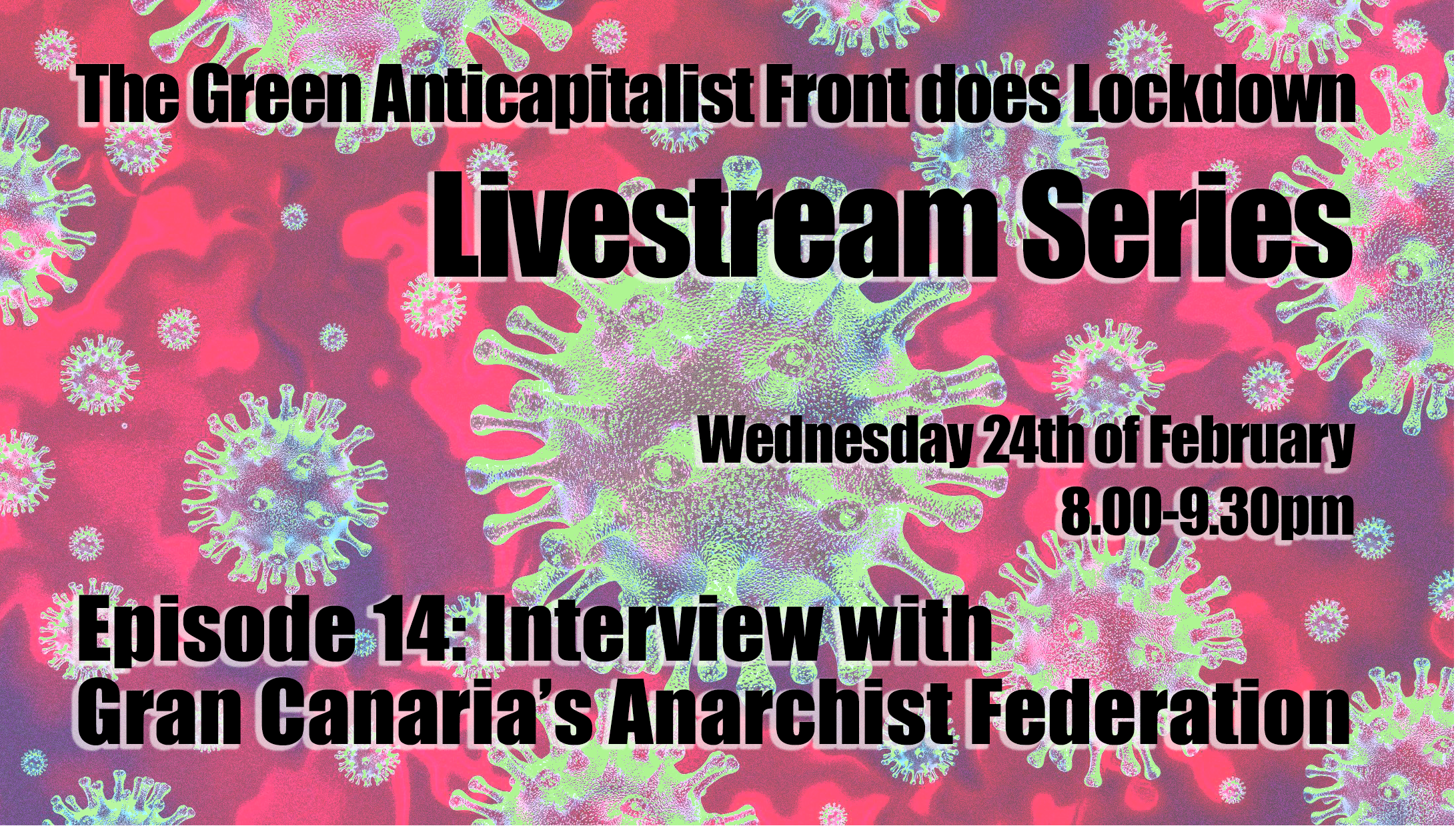 GAF is reacting to the Covid-19 lockdown and enforced social distancing, by moving online. We are doing a series of livestreams about a variety of subjects and groups that we hope will provide food for constructive discussion and inspiration for action.
Episode 14: Interview with Gran Canaria's Anarchist Federation
In this episode of GAF does Lockdown we'll be interviewing a member of FAGC (Federación Anarquistas Gran Canaria or Gran Canaria's Anarchist Federation), which centres most of its activity on the issues of housing, rent and homelessness. They are known for starting the Sindicato de Inquilinas de Gran Canaria (Gran Canaria's Renter's Union) which has been housing homeless people in squatted buildings run along anarchists' principles. The biggest one so far, La Esperanza, houses more than 260 people, around 160 of them minors.
We'll be asking them about the origins of the project, the challenges they've faced over the years and the lessons they've learned on how we can build autonomous projects that "bring anarchism to the non-anarchists".
You can read about some of their ideas on this translated article: https://theanarchistlibrary.org/library/ruyman-rodriguez-street-anarchy?v=1598313600
And learn about La Esperanza project on this documentary (eng subtitles available): https://kolektiva.media/videos/watch/21e32246-2afa-42d9-a70a-c5d16c7cc9ba
Link to video-conference to participate in discussion and ask questions:
Discussion internet link:
Internet link to just listen to audio:
Notice: These livestreams will be recorded so they can be shared on our website for everyone who missed them. Please beware of this when following in video-conference link.
Event times are set at GMT (Greenwich Mean Time), the time zone being UTC.
Accessibility
Twitch offers automated closed captions, although the quality of the transcription can be quite low at times. We also publish a recording of each livestream on the GAF Youtube channel after the event, and Youtube closed captions tend to be more reliable. It may take us a few days to upload the recording to Youtube, but if you're keen to see it sooner, do get in touch, and we may be able to prioritise this.