Birmingham Open Planning Meeting
12 January, 2020 @ 1:30 pm

-

3:30 pm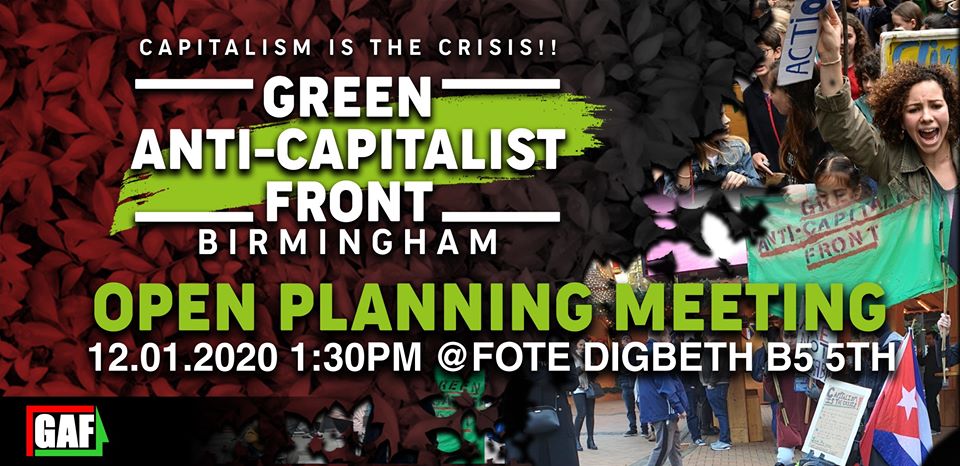 There's a lot of talk at the moment of defeat and stepping back. But the environment is still being systematically destroyed. And it still needs anti-capitalists. And anti-capitalists – fighting for the working class and for sustainability – are going to need each other. We need solidarity and community to keep our spirits up and make sure we keep fighting. As long as capitalism's attack exists, there will be people who take up the duty to fight it.
Come to our open planning meeting and get involved with the Green Anti-Capitalist Front. GAF is a name, a banner, a call to action. It's not an organisation or a network and has no central authority. We want GAF to act as a way of bringing people together, to take action, to spread a radical, anti-capitalist position on climate change and other environmental issues. A way for those who see that capitalism is destroying our environment to work together on points of unity.
We organise in a supportive, inclusive way, free from bullying or abusive behaviour. We don't work with companies or the private sector, We don't work with the police or the state. We should ensure the actions we take, and the struggles we link up for, leave us and others who take part stronger not weaker. Win or lose, each action and campaign should leave us more aware of the world around us, more confident of our collective power, and more experienced in our ability to self-organise.